Manufaktur Logam Ridge Tile Forming Machine
Ridge Tile Forming Machine, Membangun Material Ridge Machinery, Gaya Dominika Ridge Tile Machine

Botou Xianfa Roll Forming Machine Factory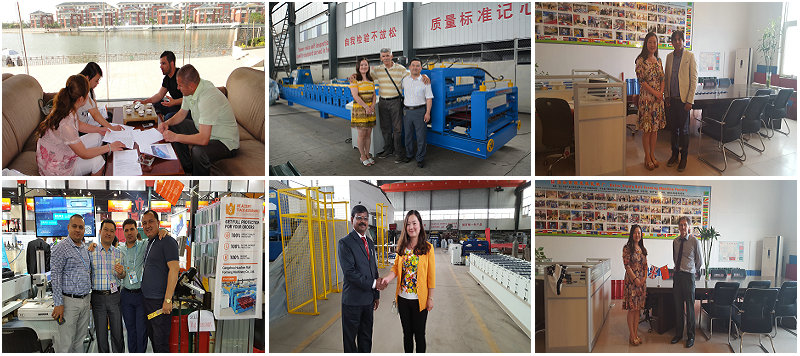 Logam Ridge Tile Forming Machine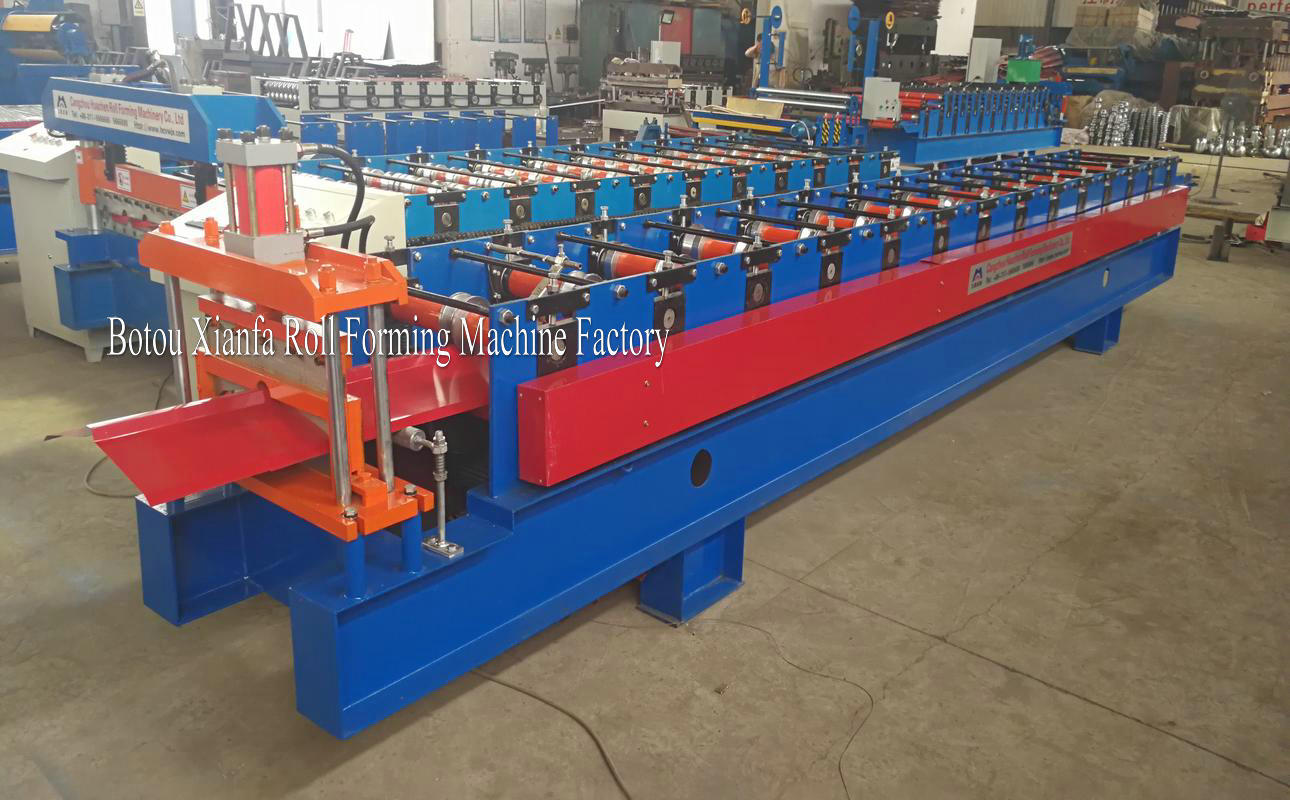 Parameter Rinci Peralatan
No

1

Suitable Material

Colored Steel plate

2

Width of the raw material

480mm

3

Rows of rollers

16 Rows

4

Appearance size

7300*1350*1510mm

5

Total power

3+3KW

6

Thickness of raw material

0.3-0.7mm

7

Productivity

0-15m/min

8

Diameter of shaft

¢66mm

9

Voltage

380V 50Hz 3phases
Komponen dan Spesifikasi Teknis
Manual Uncoiler

Usage:It is used to support the steel coil and uncoil it in a turnable way. The steel coil is uncoiled by hand. Loading capacity:3000KG.Inner diameter: 500-508mm

Main Roll Forming Machine

Material of rollers:45# steel,roller surfaces polishing, hard plating , The polished surface and the heat treatment towards the molds also can keep the molding plate surface smooth and not easy to be marked when it is being stamped.

Hydraulic System AND Computer Control Cabinet

Hydraulic oil: 40#

hydraulic oil into the hydraulic oil tank ,the pump drive the cutter machine to begin the cutting job.

The target piece`s length is adjustable and digit of it can be adjusted. Computed mode has two modes: automatic and manual one. The system is easy to operate and use

PLC: EURA(Can customize as customer require)

Shearing Mechanism

It adopts the hydraulic drive and automatic location to decide the dimension and cut the target products.

Material of blades: Cr12,quenching treatment

Output Table

It adopts welded steel and supported roller to transmit the products,which is used to collect the finished products.
1. Kami memiliki teknisi profesional untuk memuat
Dijamin barang dimuat ke dalam kontainer tanpa kerusakan apapun.
2. Transportasi: Mesin membutuhkan satu kontainer 40 kaki untuk dipegang
3. Silakan berikan kami nama port terdekat, kami akan meminta biaya pengiriman dan mengatur pengiriman untuk Anda.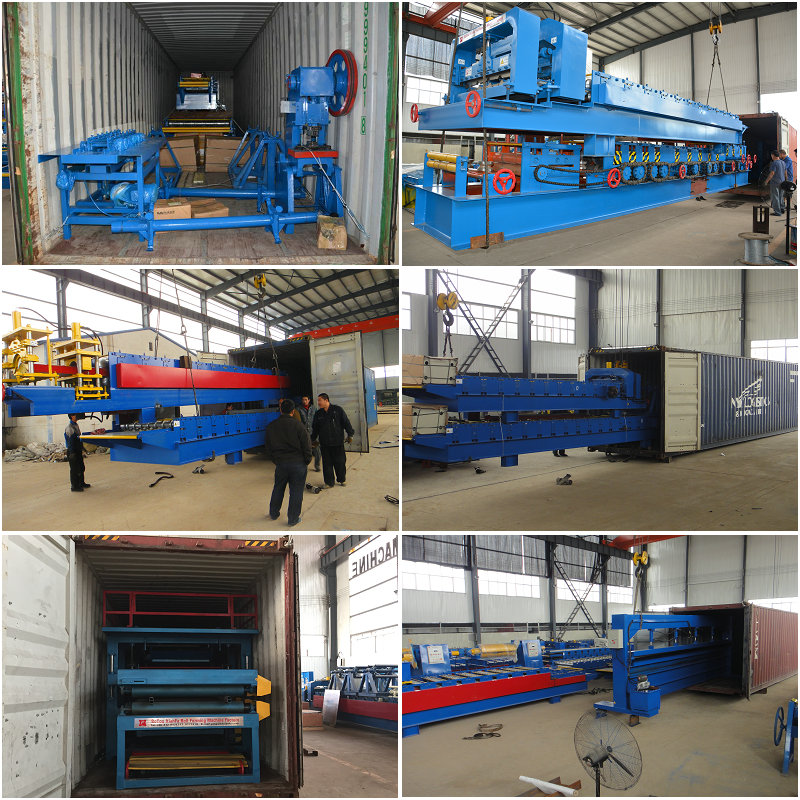 Sertifikasi Perusahaan
Kami telah menyetujui sertifikasi CE Eropa, ISO dan SGS internasional.

pelayanan kami
1. Garansi: Satu tahun, dan kami akan memberikan dukungan teknis untuk seluruh kehidupan peralatan.
2. Waktu pengiriman: Dalam waktu 30 hari setelah menerima setoran pembayaran Anda
3. Masa garansi: 18 bulan layanan gratis / membayar layanan semua kehidupan mesin
4. Instalasi dan pelatihan Jika pembeli mengunjungi pabrik kami dan memeriksa mesin
kami akan mengajarkan Anda cara memasang dan menggunakan mesin dan juga melatih pekerja / teknisi Anda secara langsung.
Tanpa mengunjungi, kami akan mengirimkan Anda panduan pengguna dan video untuk mengajarkan Anda untuk menginstal dan mengoperasikan.
Jika pembeli membutuhkan teknisi kami untuk pergi ke pabrik lokal Anda, silakan mengatur papan dan penginapan dan hal-hal lain yang diperlukan.
FAQ
Mengapa Memilih Botou Xianfa Roll Forming Machine Factory
1) Q: Apakah Anda memiliki dukungan purna jual?
A: Ya, kami senang memberikan saran dan kami juga memiliki teknisi yang terampil yang tersedia di seluruh dunia
Kami membutuhkan mesin Anda berjalan untuk menjaga bisnis Anda tetap berjalan.
2) T: Bagaimana mesin Anda dibandingkan dengan perusahaan besar lainnya di pasar ini?
A: Kami up to date dengan teknologi terbaru dan meningkatkan mesin kami yang sesuai
3) Q: Apakah Anda akan mengirimkan barang yang tepat sesuai pesanan? Bagaimana saya bisa mempercayaimu?
A: Ya, kami akan melakukannya. Inti dari budaya perusahaan kami adalah kejujuran dan kredit
Xianfa adalah pemasok Emas ALIBAB dengan penilaian BV dan sertifikat CE.
4) T: Apa yang dapat Anda lakukan jika mesin rusak?
A: Masa garansi mesin kami adalah 18 bulan, jika bagian yang rusak tidak dapat memperbaiki
kami dapat mengirim bagian baru menggantikan bagian yang rusak gratis, tetapi Anda perlu membayar biaya express sendiri jika setelah masa garansi
kita dapat melalui negosiasi untuk memecahkan masalah, dan kami menyediakan dukungan teknis untuk seluruh kehidupan peralatan.
5) Q: Bisakah Anda bertanggung jawab untuk transportasi?
A: Ya, tolong beritahu saya pelabuhan tujuan atau alamat kami memiliki pengalaman yang kaya dalam transportasi.
6) Q: Dapatkah Anda menyediakan bahan baku?
A: Ya, kami dapat menyediakan kumparan baja galvanis, kumparan baja galvalume, kumparan baja warna, dan aluminium coil
Kategori Produk: Manufaktur & Mesin Pabrikan> Mesin Pembuat Bahan Bangunan>
Mesin Pembuat Genteng> Mesin Pembentukan Genteng Metal Ridge
Kategori Produk : Ridge Cap Forming Machine Series > Mesin Roll Forming Roof Ridge Roll